Specialisation track in Companion Animal Dermatology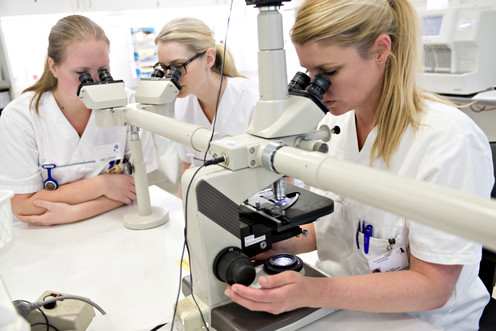 Modern small animal veterinary practitioners are continuously met with higher demands and expectances to level of expertise, advanced diagnostic work-up and various treatment modalities.
The Companion Animal Dermatology programme is a 2-year specialisation track consisting of 3 course modules and a Master's thesis.
The programme has a strong emphasis on practical sessions and case-based approaches applicable for implementation at specialised companion animal clinics.
Practical sessions (wet labs) included in the Dermatology Master's programme are;
Endoscopy workshops (video otoscopic examinations)
Interpretation sessions of advanced CT data of the ears (external canals and middle ear) of the dermatological patient
Practical and diagnostic cytological exams including accurate sampling and advanced interpretation with regards to dermatological diseases
Course modules
Each course module is a 5 days on-site module at the University Hospital for Companion Animals, University of Copenhagen.
The modules consists of a combination of theoretical lectures, case-based workshops and practical wet-labs and are divided into:
Specialisation responsibles
The course responsibles for the specialisation track in Dermatology are:
Associate Professor Mette Schjærf, University of Copenhagen
As certified/specialist, you can apply for enrolment directly at the Dermatology specialisation track.
From Sweden: Swedish specialist in diseases of dogs and cats, in Swedish known as Steg 1
From Norway: Norwegian specialist in diseases of dogs and cats, in Norwegian known as Specialisering i veterinærmedisin, spesialitet smådyr
From Finland: Finnish specialist in diseases of dogs and cats, in Finnish known as Pieneläinsairauksien erikoiseläinlääkäri
From Denmark: DVA in Small Animal Diseases, in Danish known as certificeret fagdyrlæge i sygdomme hos hunde og katte.